Introductions
Michael Rosenberg, Vice President, E.J. Krause & Associates James Woolsey, Senior Vice President, Booz-Allen Hamilton, and former Director, Central Intelligence


Windows Media High
---------------------------
Opening Keynote: Homeland Security – Where Do We Go From Here?
Admiral Thomas Collins, Commandant U.S. Coast Guard


Windows Media High
---------------------------
Q&A With Collins

Windows Media High
---------------------------
Keynote Speaker: U.S./Canada Cooperative Efforts to Protect Maritime Assets
Blair McNight, Director, Marine and Ports, Royal Canadian Mounted Police


Windows Media High
---------------------------
Keynote Speaker: Maritime Security Efforts in the European Community
Marjeta Jager, Director, Transport Security, Directorate-General for Energy and Transport, European Commission


Windows Media High
---------------------------
The Impact of Security and Governmental Regulations on Industry, Post 9/11
Jonathan White, Chief Information Officer, Human Health Services, Pfizer Health


Windows Media High
---------------------------
Keynote Luncheon

Windows Media High
---------------------------
Featured Speaker: Intelligence and Information Sharing on the War on Terrorism
James Woolsey, Senior Vice President, Booz-Allen Hamilton, and former Director, Central Intelligence


Windows Media High
---------------------------
Food Defense in the United States – Impact on Imported Food
David Acheson M.D., Chief Medical Officer and Director, Office of Food Safety, Defense and Outreach Center for Food Safety and Applied Nutrition, Food and Drug Administration


Windows Media High
---------------------------
| | |
| --- | --- |
| Results 1 - 9 of 17 | « 1 2 » |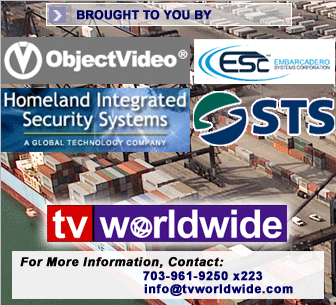 Maritime TV attracted national press attention in 2004 over its video report highlighting deep industry and government concern about the threat to homeland security posed by the control of ships and crews in
U.S. ports. The video news release was part of a series of programs highlighting the contributions of the U.S. Merchant Marine in World War II surrounding the World War II Memorial Dedication in addition to video news reports on issues surrounding the decline of the
U.S. flag fleet and what it means for homeland security. "We were overwhelmed with industry and government commentary on what the demise of the
U.S. flag fleet portends for homeland security," remarked Dave Gardy, CEO of the TV Worldwide network. "This controversial issue continues to be looked at in a whole new light of homeland security and defense vulnerability. We intend to continue coverage on this and many other maritime security issues during the webcast, in addition to highlighting the latest technology advances."

Port and maritime security have recently been a top concern among security officials in
Washington. "In the attacks of September 11, clearly we saw that the airplane became the bomb," stated Ed Kittel, Chief of the Explosives Division for the Transportation Security Administration (TSA) in a Maritime TV video news report. "It would not take much of a leap to show that a ship could become the bomb, particularly a ship with volatile cargo."

Interview with Frank A. Moody II
CEO/Chairman, Homeland Integrated Security Systems, Inc. Mr. Moody describes the Cyber Tracker, a small device that performs real-time tracking of assets and downloads the information via network or satellite. The wireless multi-function device also functions as a GPS locator, tracks vehicles or vessels, monitors equipment usage and performs computer functions.


Windows Media High
---------------------------
Interview With Melchior Balthazar, Vice-President, ObjectVideo
Object Video leads the industry with an artificial intelligence system to perform consistent and reliable object detection and monitoring. Used in port surveillance applications it detects vessels, vehicles, people and other objects in the monitored area. As a former Navy SEAL, Mr. Balthazar adds operational expertise to the information technology aspects of Object Video.


Windows Media High
---------------------------
Interview with Mike Smith, Vice President, STS
Mr. Smith describes the company's PS3, an open architecture mobile wireless device, that integrates multiple sensors such as radar, cameras and sub-sea surveillance to provide layers of detection, act as a force multiplier and uses familiar graphical user interfaces.


Windows Media High
---------------------------
Interview with Marisol Elwell, Homeland Integrated Security Systems
Ms. Elwell describes the Expo experience as the opportunity of meeting a variety of people with a wide spectrum of products that will be able to be integrated by many attendees.


Windows Media High
---------------------------
Brian Hernyshyn, Smiths Detection Services
Mr. Hernyshyn's interview was conducted in the HCV Mobile unit that scans closed cargo containers looking for anomalies using x-ray, density or radiation detectors. The company's high power penetration capability can "see" through up to 13 inches of solid steel.


Windows Media High
---------------------------
Mechior Baltazar, Object Video

Windows Media High
---------------------------
Interview with Ed Schriger, Embarcadero Systems
Mr. Schriger, Director of Secure Trade Solutions and Services, talks about his company's technology and operations services to major marine terminals and ports such as terminal operation, auto-logistics and security.


Windows Media High
---------------------------
| | |
| --- | --- |
| Results 1 - 7 of 9 | « 1 2 » |