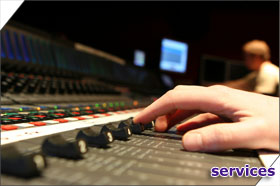 TVWorldwide.com is a full-service streaming video applications service provider. That means we can do everything required to accomplish the following:
Live Streaming Video Webcasts
Video Hosting (including hyper-linking of video from our servers to your web site so it appears to your viewers that it resides there)
All Types and Formats of Video Encoding (including advanced and proprietary compression algorithms)
Single and Multi-camera Professional Digital Video Production (on-site and in our new state-of-the-art Internet TV studio facility)
Internet Studio Set Design and Construction
Video-Based Web Site Design, Construction and Hosting
Digital Video Post-Production
Streaming Video Consulting Services
Proprietary Closed-Captioned Video Streaming (live and archived)
360 Degree 3-D Live and Archived Video Streaming
2-D and 3-D Computer Graphics Animation for Digital Video and the Web
Live Event Webcast Marketing and Public Relations
Proprietary Live and Archived Video Streaming On-Line Interactive Training and Education (including interactive chat and testing)
Live and Archived Internet TV Programming Concept and Script Development, Production, Marketing and Distribution
Interstitial and Superstitial Video Banner Ad Development and Channel Underwriting Partnerships on the TVWORLDWIDE.com Network of Video-driven, Community-based "Aimcast" Internet TV Channels (where we think vertically. and interact globally)

Our all-star staff has been assembled to provide solutions for every conceivable streaming video requirement with pioneering expertise in more than 3000 webcasts and over ten thousand hours of archived video streaming content.

In order to purchase a webcast, call us at (703)961-9250 ext 221, or Email us at info@tvworldwide.com.