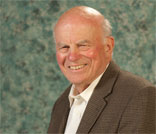 Richard Viguerie - legendary conservative activist, direct response fundraising pioneer, and currently chairman of ConservativeHQ.com - delivered the keynote speech at the inaugural Leadership Tea Party Class 1 training event held at the Dallas Fort Worth Airport-Westin January 29-31. In addition to Mr. Viguerie's keynote speech delivered on Friday night January 29, the event consisted of 11 sessions of grassroots leadership training over 14 hours on Saturday and Sunday, January 30-31. The Leadership Tea Party Class 2 webcast will include new content in live interactive format from our studios near Washington D.C. along with live tape playback excerpts from Leadership Tea Party Class 1.
Instructors at these sessions are the experienced and successful local tea party leaders who have been part of the Tea Party Movement since its inception on February 20, 2009. The Nationwide Tea Party Coalition, which sponsored both the February 27, 2009 "Nationwide Chicago Tea Party," and the April 15, 2009 "Tax Day Tea Party Events" is the organizer of the event.
The Nationwide Tea Party Coalition is a loose, informal collaborative federation of twenty-five local tea party leaders from around the country who meet quarterly to discuss strategic and tactical issues. Ken Emanuelson, one of the leaders of the Dallas Tea Party, which is one of the twenty-five local tea parties that form the Nationwide Tea Party Coalition, was the spokesperson of the Leadership Tea Party event Class 1.