Live Webcast of The U.S. Merchant Marine Academy Class of 2006 Commencement Ceremony, featuring President George W. Bush as the Keynote speaker, at Kings Point, NY on June 19, 2006 at 9:45AM ET
Click here to view
U.S. Merchant Marine Academy Informational Video

"Respect: An Introduction
to Kings Point"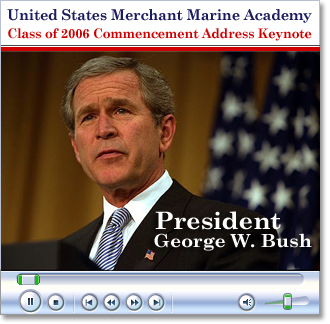 Webast powered by
People around the world can participate online through the Internet simulcast, accessible through www.tvworldwide.com and www.maritimetv.com. Viewers should tune in online at 9:45 AM (ET) on June 19th and have the free Windows Media Player installed and tested prior to the event. Technical questions during the event can be directed to 703-961-9250, ext 223.