Captions will appear here in Internet Explorer. If you are using Firefox, Safari or some other type of Internet browser, captions may not show up correctly.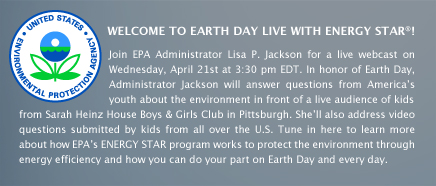 For the live webcast, please tune in 15 minutes prior to the start time and test your video player. Viewers will need to have Windows Media player or Flash player installed to view the event. The event will be captioned in compliance with Section 508.
The event will be archived for at least 3
months, viewable at epa.gov/live and at energystar.gov/changetheworld

---
Download free WINDOWS MEDIA PLAYER
and FLASH PLAYER here.
SUPPORT

HELP

For problems with the website or video please email or call one of our technical support numbers listed below

info@tvworldwide.com
(814) 653-2760 / (330) 629-8230
(703) 961-9250 ext. 232 / (203) 502-8166